This post may contain affiliate links. That means that if you click on a link and purchase something I recommend, I will receive a small commission at no extra cost to you. As an Amazon Associate, I earn from qualifying purchases. This helps keep my website up and running and is very appreciated. Thank you for your support!
Stylish Fall Wardrobe Essentials For Every Woman
In today's post, I am going to be showing you some of my favorite fall wardrobe essentials which will keep you warm while looking fabulous in the colder months.
Fall fashion is one of my favorite parts of the fall season, and I absolutely love all the different ways I can express myself through my style in the fall.
These fall wardrobe essentials are perfect for all women- no matter your age, height, or body type.
So without further ado, let's get into the fall wardrobe essentials every woman needs in her closet!
A structured bag
Having a good, structured bag can pull your whole look together without any effort.
Sticking to rich colors like burgundy, emerald, brown and black is great and these colors will go with almost everything in your closet.
I prefer structured bags in the fall and winter months rather than slouchy bags because of how chic they look and because of the way they can make a casual outfit look like a million bucks.
There are SO many good bags out there that are perfect for every day wear, and here are some of our favorites:
A chic coat
Having a good coat can transform your look from casual to chic in no time! Not only that, but it's great to have as your last layering piece, especially if you live in a colder climate.
There are so many cool coats out there in an array of different colors, and here are some of our favorites for every budget!
A good pair of boots
Anyone else OBSESSED with boots like I am?
There are so many different styles of boots out there these days, so there is something out there for any outfit in your closet.
For a more casual look opt for chelsea boots, while if you're dressing a little more dressy, knee-high boots make a statement and look super fashionable.
Check out our picks for awesome fall boots below:
A Neutral Scarf
Scarves are the ultimate cozy accessory you should have in your wardrobe in the fall months. Besides keeping you warm and cozy in the cold weather, scarves can make a very big difference to your look.
For a chic but cozy look, opt for a bigger scarf in a neutral color which can go with multiple outfits in your wardrobe!
Here are some great scarves that go with everything which you are going to love:
Basic flats
You won't always feel like wearing boots, and that's completely fine. Some climates don't even allow you to wear boots because of warmer weather, so instead, opt for a good pair of flat shoes.
Flats have come a long way and can look amazing with any outfit. The key is to choose something that is comfortable and of good quality, unless you want to buy new pairs every season.
Here are some great picks you can check out:
A good pair of jeans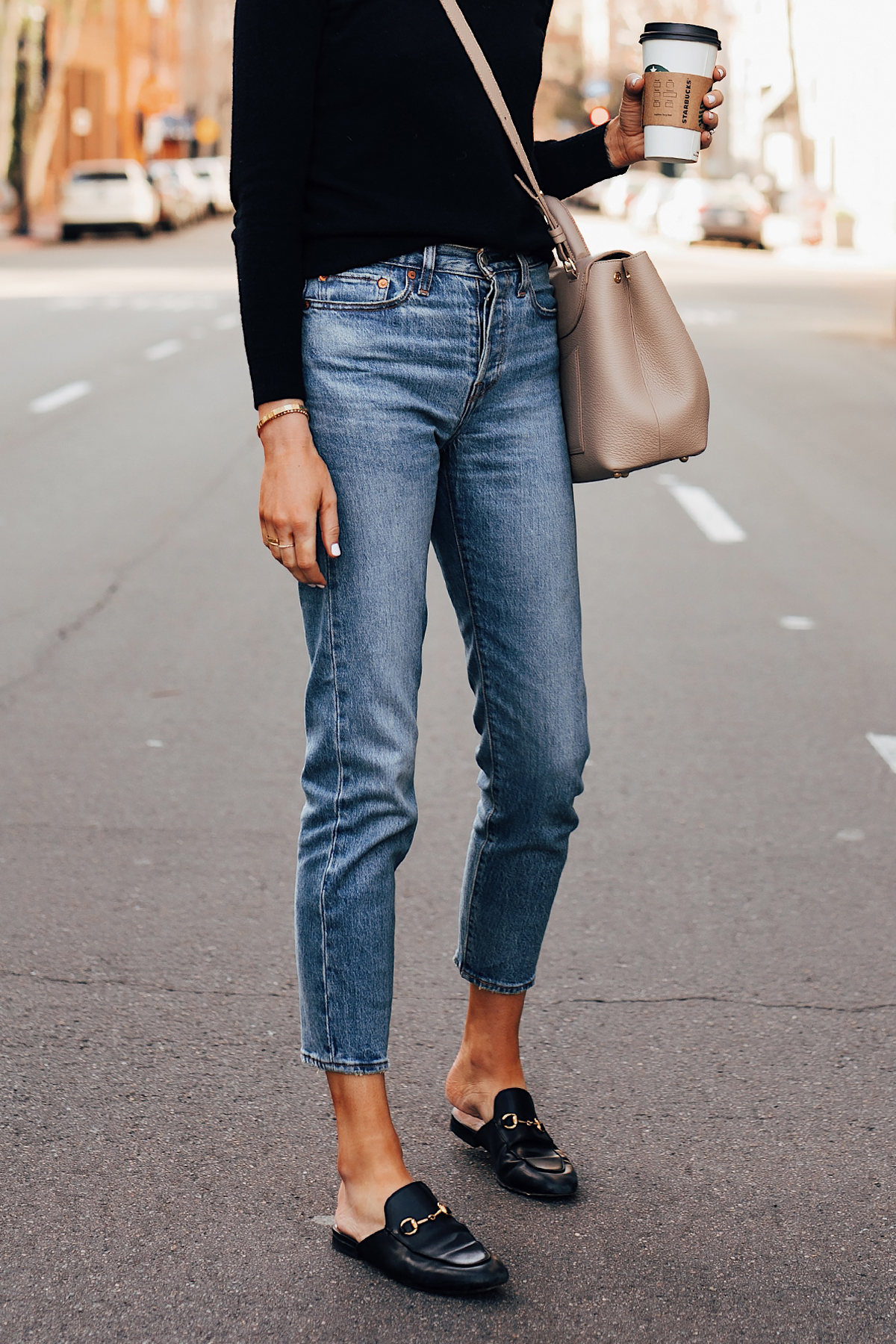 Jeans are staple wardrobe pieces for a good reason. They are versatile, can be worn with almost anything, and the right pair of jeans can make you look and feel your best.
The best thing about jeans is that there are so many different colors and cuts, that it's impossible not to find a pair you love.
I recommend experimenting with different cuts of jeans to find what you feel the most comfortable in! Get yourself a good blue-wash pair of jeans as well as a darker wash for some variety.
Chunky knits
A chunky sweater is the ultimate fall fashion staple and is something every woman must have in her wardrobe!
There's nothing better than a cozy sweater to take you through the cold months. They're perfect for lounging around at home or going out to coffee with your girlfriends.
If you want to get the most out of your sweaters, pick up a couple of oversized sweaters. Those can be worn with leggings, jeans, jeggings, or slacks and look great no matter what bottoms you're wearing!

Shop our picks here:
If you enjoyed this post, you will also like:
fall fall fashion fall fashion essentials fall style fashion
Reader Interactions