This post may contain affiliate links. That means that if you click on a link and purchase something I recommend, I will receive a small commission at no extra cost to you. As an Amazon Associate, I earn from qualifying purchases. This helps keep my website up and running and is very appreciated. Thank you for your support!
In today's post, I am going to be sharing easy ways to elevate your style if you are looking to look a little bit more put-together this year.
Looking stylish and like you are a master dresser doesn't mean wearing the latest trends. Nor does it mean spending stupid amounts of money on designer labels. Of course, if that's your thing, more power to you. However, if you don't have thousands to spend on your wardrobe each month, this post is for you.
Looking good and feeling good about your clothing can be as simple as putting on a cool jacket underneath an all-black outfit. And the great thing about style is that it is yours to experiment and play around with.
If you are interested in some of my easy styling tips for how to elevate your style, keep on reading.
Please take a moment to share this post on Pinterest. 😊
10 Easy Ways To Elevate Your Style
Invest in good basics
Good quality basics are going to be your best friends when getting dressed. Clothes which you can wear multiple ways will more than likely be clothes you wear a LOT. In this case, it is good to invest in good quality basics so that they can stand the test of time.
Some basics I recommend owning at all times:
A good pair of dark wash jeans. This one has 5000+ positive reviews!
A blazer that you can dress up or down
Good quality T-shirts (colors like black and white are going to go with everything)
Dressy flats like loafers (these are by far my favorite and come in so many different colors!), or pumps if you are comfortable with those!
Stick to the classics
Classic looks will never go out of style. Little black dresses, dark wash jeans, simple blazers, pencil skirts, plain t-shirts, wrap dresses, and pumps are always going to be in fashion because of how classic they are. Plus, they are very easy to accessorize with trendier pieces!
Always wear steamed clothes
Wearing pressed or steamed clothes can take your look from messy to fabulous in a matter of minutes. Sure, it's annoying and nobody wants to do it, but it makes the world of a difference. If you hate ironing like most people do, invest in a hand-held steamer instead. Or, for the ultimate hack, spray a wrinkle-release spray on your clothing and watch the magic happen. This will ensure that your clothing is always crisp before you put it on and head out.
Your undergarments matter
What you wear under your clothes definitely matters! Your undergarments should complement what you are wearing. That means no visible bra straps or panty lines, and if you can, invest in some shapewear. Nude and black undergarments go with anything and everything, and you can get shapewear that is not going to be super restricting. Below are some examples:
Dress in monochrome
A really easy way to look chic and put together is by dressing in the same tones. That means your top, bottoms, and outerwear are monochrome. It can instantly make you look like a million dollars and is super easy to achieve.
Befriend your tailor
Sometimes you can find an amazing deal on an article of clothing, only to find out that it's too big on you. If it's too big, too long, or too bulky you can always take it to a tailor who can help fit the clothing to your frame perfectly. It is an extra expense, but having a good tailor can make a world of a difference when it comes to the fit of your clothing.
Know your body type
All types of clothes don't look good on everybody. Even supermodels can't pull everything off because some clothes are not made for their bodies. The key is to know what body type you have, and then dress according to what looks good on that body type. Click on the chart below to find out what body type you have, and how you can dress to flatter your shape.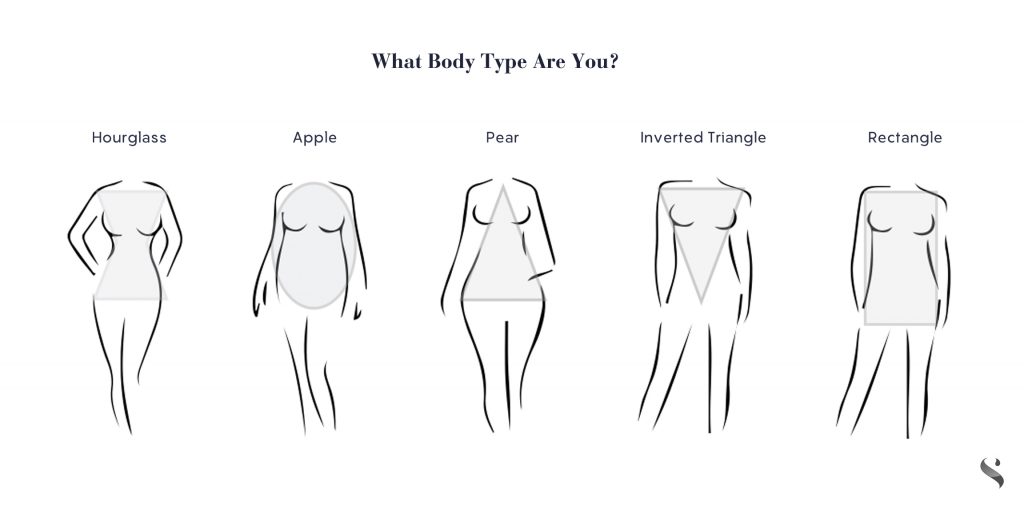 Try pointy shoes
Pointy shoes can elongate your frame by giving the illusion that your legs are longer than they actually are. They can also be worn with almost any outfit, and they don't have to be pointy heels! Flats that are pointed work just as well at elongating your body.
Accessorize accordingly
A really easy way to spice out a plain outfit is by adding a few accessories to it. If you're a fan of classic outfits, you can definitely add elements of whatever is on trend with accessories. Even a plain t-shirt and jeans can be made stylish with the right accessories! Try playing around with hats, scarves, chunky necklaces, or hair accessories the next time you get dressed. You might be surprised by how much you like it!
Ditch the tank tops for camis
I recently made the switch from basic tank tops to camisoles, and let me tell you!! I love the way a lacey cami looks SO much more than a plain tank top. Personally, I wear them under low-cut tops or with a blazer or cardigan, and I love the way the lace peeks through at the top. I now own a black, white and nude camisole and wear them all the time.
Avoid poorly made clothing
Many brands nowadays are unfortunately cutting corners when it comes to quality. Fast fashion has made it very hard to find pieces that are made well, so it would help if you took a bit of time to examine the pieces you are interested in buying.
The Insider has a really good article on how to tell if clothing is well made, so do check it out if you are looking to upgrade your wardrobe with quality pieces.
Some of my favorite brands that have well-made clothes that actually will last you many years are:
Massimo Dutti
Skims (great for basics and undergarments)
Club Monaco
Mango
Reformation
I hope you enjoyed this post on how you can elevate your style this year! Do you have any other tips on elevating your style? Leave them in the comments!
You may also enjoy:
HOW TO LOOK CLASSY AND TIMELESS
Reader Interactions